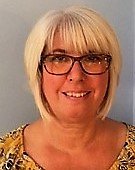 Psychotherapeutic Counsellor and Supervisor in Newcastle Under Lyme, North Staffordshire
Is your past preventing you from having the future you desire?
Are you stuck after some traumatic event?
Are you struggling with loss or bereavement?
Are you suffering with low self-confidence and self esteem? - Then let us help you to start a NEW PAGE.

Does life feel like its getting on top of you?
Could you benefit from a place to take some time-out?
... to explore your thoughts and feelings
... to get back on a front foot again

Do you need support from a counsellor or therapist in Newcastle under Lyme, North Staffordshire, (we also cover Stoke on Trent and South Cheshire)? Whatever your problem, at New Page Counselling Services, we can help you to move forward with your life.

New Page Counselling Service is owned and run by Lynn Page, (PGDip in psychotherapeutic Counselling). I am an accredited registered member of the British Association for Counselling & Psychotherapy (MBACP), and I am bound by its codes of Ethics and Practice. I also offer supervision to other counsellors and student counsellors in Newcastle Under Lyme, North Staffordshire.

I am a practising therapist, counsellor and supervisor in Newcastle Under Lyme, North Staffordshire and am committed to providing psychotherapeutic counselling and supervision in a safe, confidential and non-judgemental environment. I offer both in-person (In a covid secure environment) and online (usually Zoom) therapy.

I work with adults and couples over the age of 18, and offer both short term therapy, (8 to 10 sessions) which can sometimes be all you need if you are having problems with a particular issue, and Long term, open ended therapy, which if you have suffered with chronic trauma in childhood or adverse childhood experiences, for example, can help you move forward gently and safely to a meaningful future.

As a therapist I am experienced in helping clients who have experienced difficulties with :

Depression,
Anxiety and panic attacks
Stress
Relationship problems
Chronic childhood trauma in adults
The effects of Adverse Childhood experiences in adults
Low confidence and self esteem
Menopause and Change
Bereavement
Parents with children who are Neurodivergent (e.g. Austism, with or without a PDA profile, ADHD, etc.)
Adults who are or suspect that they may be Neurodivergent


I also provide Therapeutic Coaching, if you feel stuck either in your personal life or your career, we can work on setting and achieving goals, that fit in with your values. Values are incredibly important, because they represent what you want your life to stand for, they give our life meaning, and provide us with satisfaction, both in a work situation and in our personal life. Values are a very personal thing, they are not something that other people can impose upon us, but something that gives our life direction. Sometimes we need help to work out what those values are, and then set goals in accordance with them which will help to make our lives rich and meaningful.

Coaching can help if you have not been in work for some time, for whatever reason, and wish to return to work but have no idea how to begin. If you are in a job where you feel stagnant and get little or no job satisfaction, if your confidence and self esteem are low, if you have reached a point in your life where you feel that you have no purpose, for instance if your children have grown up and moved away and you feel lost, or in any of those life transition stages, such as retirement, menopause, or redundancy.

Couples Counselling and therapy in Newcastle under Lyme, Stoke on Trent and South Cheshire

As well as working with individuals for relationship problems, I also work with couples, whether you want to try to save your relationship, or if you have already decided to part, spending some time with a third party, who is not involved can help repair the cracks or help to bring about as good an ending as possible, especially if you have children, it can also help you to move forward with your life with confidence irrespective of the outcome..

Couples counselling is not limited to romantic relationships. Parent and child, siblings or friends who are having problems, can also benefit from relationship counselling.

Relationships don't have to have encountered problems for you to benefit from counselling, it can also be very useful for couples planning a life together, to ensure that you both know what to expect from each other and the relationship, and can better anticipate any problems that may arise in the future, so that you are able to ride the storms that inevitably will arise.

New Page Counselling Service operates from a purpose built Covid secure garden room in the back garden of my home in the Porthill area of Newcastle-under Lyme, North Staffordshire. It is a quiet, confidential and peaceful space, where we can explore the areas of your life that are causing you problems. It is within easy reach of Newcastle Under Lyme, Stoke on Trent, and South Cheshire. I also offer home visits to housebound clients in these areas.